How You Can Sell Your Marital Real Property Fast When Divorcing in Dallas, Texas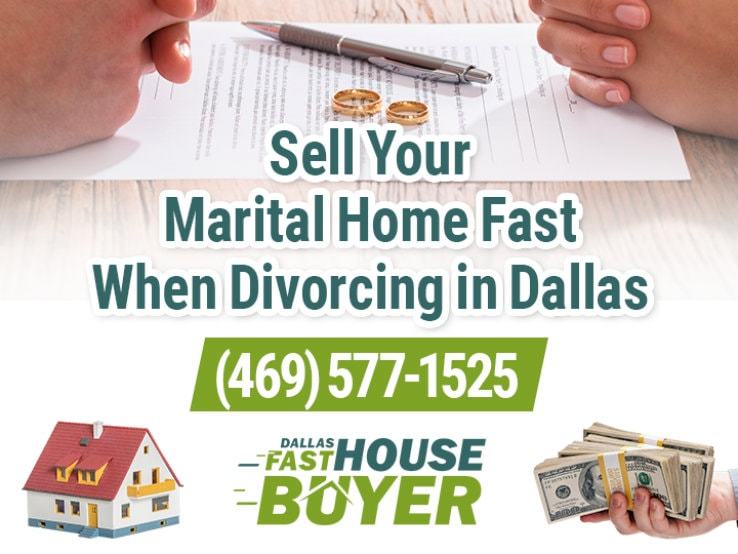 Getting a divorce is always stressful, but there are ways of selling your marital home quickly and efficiently. Separating assets is easier than you think when you stay informed.
How Hard Selling a Matrimonial Home Can Be
Foreclosure
Unfortunately, financial difficulties are one of the reasons many couples separate. When this is the case, the divorced couple might have to deal with foreclosure or pre-foreclosure in addition to their divorce. Splitting marital property is made even more stressful when facing foreclosure.
You Are Still Paying the Mortgage Your Name Is On
In some cases, one ex-partner will be granted the matrimonial house in the divorce property settlement. Although one person owns the house, the other person might still be on the mortgage. If their name isn't removed from the mortgage, they could still be responsible for making payments on the house. This situation could also negatively affect that person's credit.
Ex-Spouse Getting in the Way
When a couple can't agree on how to split a property, it can create major problems. In some cases, the decision will be determined by a judge who will often force the sale of the house. When this happens, one or both spouses could end up unhappy with the decision.
What's the Easiest Way to Sell a Family Home When Divorcing in Dallas TX?
One way divorced couples can quickly sell their home is with a real estate investor. Dallas Fast House Buyer is the most reliable real estate investment company in Dallas, Texas and the surrounding areas. The company guarantees the quick sale of your home in one easy, stress-free transaction.
Sell Your Marital Home Fast with Us
When you work with our experienced real estate investors, you can expect to sell your home within 3-30 days. There's never been an easier way to sell your property fast.
We'll Buy It As Is
We assist couples with the division of assets after a divorce by buying their property as is. You don't have to worry about making repairs that cost time and money. We will buy your home in any condition.
We Have the Cash for You
You won't have to sit around waiting for loan approvals or checks. We offer cash for all homes, so you can walk away with your money after one quick and easy transaction with no waiting for a mortgage approval involved.
You'll Have It Sold in the Easiest Possible Way
When you choose to sell your home with us, you're choosing to sell your home with minimum hassle. Our investors take care of all the paperwork, and they'll negotiate with creditors on your behalf.
Learn More
How to stop foreclosure when divorcing?
Short Sale
A short sale is when your lender accepts the proceeds from the sale of your property as full payment of your mortgage when the property is sold for less than what you owe.
Both parties listed on the mortgage should qualify for a short sale, even if the house has been deeded to the one person. This is especially important if only your name is still listed on the mortgage after your ex has been granted the house. If your ex has ignored the divorce decree by not refinancing the mortgage, you're still tied to the house financially. A short sale could help protect your credit in this situation.
Chapter 13 Bankruptcy
In some instances, foreclosure can only be avoided by filing a Chapter 13 bankruptcy. Although it might seem stressful, the bankruptcy petition will actually give you some extra time if your lender doesn't accept the short sale. You can look for another offer and present it to your bank while the petition is being processed.
What tax exemption do I get if selling a marital property before divorcing compared to after it?
Selling the family home before or after divorcing can make a big difference in some instances. However, couples can usually deduct the same amount from any capital gains tax whether they're still married or not.
While still married, a couple can deduct up to $500,000. This number changes to up to $250,000 per person once the couple is divorced. It's important to note that after a divorce, an individual forfeits their $250,000 deduction if they haven't lived in the house for over two years. It's also worth remembering that there are no deductions for a property that is not your primary residence.
Can I sell my family home in Dallas, Texas without the consent of my ex?
The first step in determining whether or not you can sell a house without your ex-spouse's permission is to examine the deed. It's important to understand who owns the property and what type of ownership it is. If the names of both spouses appear on the deed, then you must get your ex-spouse's permission before listing the house for sale.
If only one name appears on the deed, then it's important to know your state's laws. Texas is a community property state, so an ex-spouse could have rights to the property even if their name doesn't appear on the deed.
Typically, both spouses have rights to a house that was purchased during marriage. If you bought the house before marriage but your spouse has made considerable payments towards the property's mortgage or taxes, your spouse could still have a right to the house. In order to sell the house without your ex-spouse's permission, you will have to get a quitclaim deed from them.
How and when can the sale of a marital house be forced?
Partition Lawsuit
A partition lawsuit allows you to sell the family home without the consent of your ex. This court ordered sale can be requested at any time and for any reason, but there's no guarantee it will be successful if there's no concrete reason presented.
The name of one ex-spouse is still on mortgage loan, while the other is missing payments
If your ex has sole ownership of your property but you have a joint mortgage, your credit could be in trouble. If your ex gets behind on payments, you could face foreclosure after your divorce. A partition lawsuit forces your ex to sell so you can avoid foreclosure.
An ex-spouse refuses to refinance or assume the loan after the divorce settlement
You should contact a lawyer immediately if it looks like your ex will not refinance or assume the loan after your divorce despite the fact it's written in the divorce agreement. A lawyer can help you get your name off the mortgage so you're not held responsible for payments. If the mortgage is in your name only, a lawyer can initiate a partition lawsuit in order to avoid foreclosure.