Want to Sell Your Water Damaged Home with Mold Problems in Dallas TX? Call Us Today!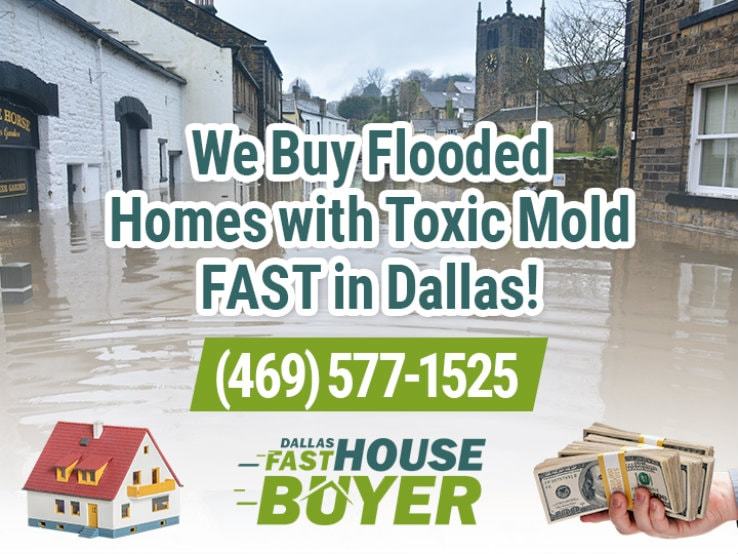 Selling a home with water damage or mold takes time and resources you might not be able to afford. Luckily, the traditional real estate route isn't your only option.
The Hard Way to Sell Your Property With Water Damage
Most often, Dallas buyers lose interest in a property once they're made aware of damage. Often, they won't even consider taking the time to attend the showing.
Realtors will try to help you overcome the hurdles of the traditional market by requiring you to pay for costly water damage repairs, inspections, mold tests, and remediations. If the black mold in your house for sale is particularly stubborn, you may go through rounds of regrowth prevention measures that can include heating and air conditioning insulation update and even buying additional components such as a central dehumidifier for your whole home or a stand alone unit for your basement or attic. Needless to say, that these measures drain your budget and exhaust your emotionally.
If you think you're guaranteed a sale after paying for an ever-growing list of repairs and renovations, think again. Properties with long repair histories don't appeal to buyers because they're afraid the repairs were only quick fixes, and problems will return soon after you close a deal.
And Here Is the Easy Way
Homeowners in Dallas and the surrounding areas can fast-track their way to receiving a great offer on their homes no matter their property's current condition. Unlike selling traditionally, this option doesn't require you to stress over making repairs, going through remediation, or paying for any other service. Instead, you can sell your home quickly and As Is with Dallas Fast House Buyer. This company of real estate investors has decades of experience providing trustworthy and convenient services to Texas homeowners. On top of enjoying a real estate transaction that is fast and easy, you can also anticipate receiving the full amount of your offer in cash.
Why Selling Your Flooded Property to Us
The Shortest Wait Time Possible
We have a reputation for providing clients with the shortest and the most straightforward real estate transaction available. After an investor stops by your home to assess its worth, you can receive a cash offer within just 24 hours. From there, our transaction can be finished in as little as 3 to 30 days. When you sell to us, you can expect speed to be a top priority. We want to buy your house as much as you want to sell!
We Will Buy ANY Property
If you think your home's current condition or past damages can scare us off, you are wrong. We've seen it all, and we'd be happy to make an offer on your home As Is. We'll save you from having to pay for renovations and repairs before turning a profit by selling your property in whatever state it is in now. You can save your money for other uses, and we'll cover the costs needed to make your home as good as new.
Get Full Price in Cash
Because we value making the real estate transaction process simple and straightforward, we eliminated the hassle that comes with waiting for checks in the mail or being delayed by other payment methods. Instead, your offer is paid entirely in cash. When you sell to us, you can expect your all-money offer to be received by you in less than 72 hours after we've finalized our contract. We'll do what it takes to hand you what you're owed as soon as possible.
No Ridiculous Additional Fees
Selling your home to other companies that buy houses for cash might entail surprise fees or other additional costs. However, we never include hidden fees in paperwork, closing costs, or any additional expenses because we value more than your property. We want you as a client to be entirely satisfied with your experience. The offer estimate you receive comes with no loose ends, which means you're free to collect your cash and walk away knowing that your money will stay entirely yours.
Our Attitude to Clients
We're more than a company of real estate investors who want to provide homeowners with the fastest transaction possible. Dallas Fast House Buyer has provided clients with personable, reliable service for decades. Your situation will be handled individually in order to find the best win-win solution for both parties. In addition to benefitting from a speedy deal, you will enjoy a transparent process with our friendly, welcoming service.
Learn More
If my home has been flooded and has water damage, how do I sell it?
A house that has been flooded or has experienced damage from plumbing water leaks must undergo expensive repairs and inspections before you can sell the property traditionally. Paying to fix a wet basement, clear out mildew, or repair structural damage makes you hemorrhage money over a long period of time. Paying for realtors' help means additional costs, inspections, and tests that are needed to ensure your property is ready to sell. Even after you've done all that is expected of you as a seller, buyers won't be eager to make an offer on your property because of its past issues even if your home's current state is pristine.
With the headache of selling traditionally in mind, the alternative option to selling your water-damaged home As Is makes for the most transparent and attractive choice. Selling to our company that buys houses for cash means you receive a fast offer and enjoy an easy transaction.
Does the Texas law require me to disclose mold, flood and water damage repair history while selling my property?
Texas disclosure laws regarding issues with water or mold in the house for sale are fairly straightforward. Any known conditions that lower your property's value such as water damage, past flooding, or the presence of toxic black mold must be made known to the potential buyer. Texas homeowners are somewhat covered from being held accountable for not disclosing what they don't know, as long as it's something that cannot be found out as a result of an average investigation.
In other words, leaving a leaky basement not disclosed or trying to hide issues with water or mold in the basement, insulation, walls, or attic can result in you being sued for breach of contract or fraud. While knowingly disclosing information that will lower the offer you receive feels counterproductive, doing so is both morally right and your legal requirement.